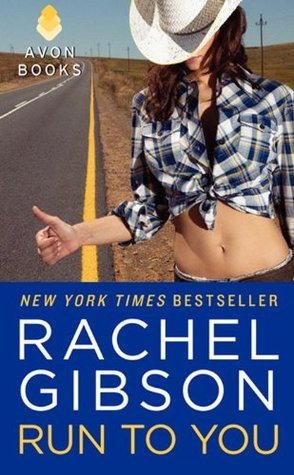 Run To You
(
Lovett, Texas #4
)
by
Rachel Gibson
Genre:
Adult Contemporary Romance
Date Published:
September 24th, 2013
Publisher:
Avon Books
Amazon | Barnes & Noble | Kobo Books | The Book Depository | National Book Store
My Rating:
There's nothing like fleeing Miami to ruin a girl's day. Stella Leon's bartending gig was going fine until gorgeous ex-Marine Beau Junger decked her mob-connected boss, spirited her out of the city, and claimed that Stella's half-sister--the one with the perfect life--sent him. Now Stella has no choice but to go along for the ride... and seduce Beau's military-issue socks off...

The Marine Corps was Beau's escape from his old man's legacy of naval heroism and serial philandering, but no amount of training could prepare him for the day he looked in the mirror and saw his father staring back. The answer: swear off meaningless sex. Oh, and find a way to make Stella Leon quit being so damn hot...
Rachel Gibson is actually one of my favorite authors, and I absolutely adored her Chinooks Hockey Team series, and also the small town books, but my adoration for this book wasn't as much as the others I've read. In fact, I wouldn't exactly say that I adored this book, but I did like it -- I just didn't enjoy it.
If you've read Rachel Gibson's Rescue Me, you'll be familiar with a brief backstory as to who Stella Leon is -- the illegitimate daughter of a rich ranch owner who'd just recently passed away -- and now, her half sister, Sadie Jo (From Rescue Me) is looking for her after having learned about her existence. But Stella's not buying it, after growing up with a childhood with no father but a hefty trust fund instead, and being the only half-caste in her mother's Latina family, she's had a hard time trying to belong, which might lead to her sister feeling the same way.
Ex-marine Beau Junger was requested by his buddy, Vince, to look for his fiancée's long lost sister and being the owner of a private security firm would get the job done in a jiffy. Look for her, get her on a plane, done. Then onto the next project. What he wasn't expecting was a hard headed woman who keeps getting herself in trouble.
Stella's character reminded me so much of myself; childlike, stubborn with a weird sense of humor and high peaked anxiety issues, and is always getting into some weird sort of trouble. Although, what kind of threw me off about her was the way came off as constantly whiney and annoying, and she would exclaim "Holy frijole y guacamole" most -- no wait, ALL the time -- even in bed. Every time she said that was a cringe worthy moment.
Meanwhile, Beau was just a big burly grumpy teddy bear. He wasn't exactly a sweetheart since he was someone difficult to get along with, and as an ex-marine, he's definitely all "man" -- blunt and straight forward. However, there were also times that I did find his language cringe worthy as well, especially when he says "muffin" and "hot pocket" in bed, which actually contradicts his blunt nature. And another tidbit about Beau? THERE'S TWO OF THEM! Yes! He has a twin, which according to my research, is featured in the next book of the series.
Another reason why I didn't exactly feel the book because even though the time span of the book was really short, it was just kind of slowpaced, and then nearing the end, a sudden abruptness to their relationship happens. Don't get me wrong, there was chemistry between the two characters, despite their huge age gap, with Stella being at least ten years younger than Beau, but there just wasn't enough tension.
I wouldn't exactly say that this book disappointed me, but since this book is by the author that has most of her books in my favorites pile, I would say that it just didn't reach my expectations for a Rachel Gibson novel.