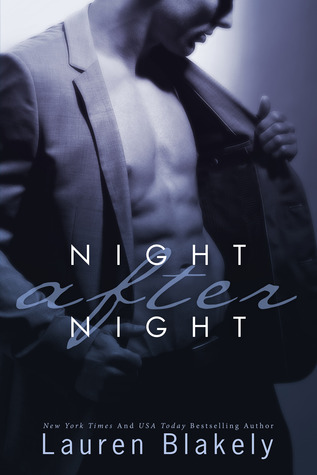 Night After Night
(
Seductive Nights #1
)
by
Lauren Blakely
(
Goodreads
,
Website
,
Twitter
)
Self Published
on April 16th, 2014
Genre:
Contemporary
,
Erotic Romance
,
BDSM
,
Suspense
Format:
eBook (250 pages)
Source:
Purchased
Amazon
|
Barnes & Noble
|
Kobo Books
Their world was sex, love, and lies.
He intoxicated her. Commanded. Consumed.

With a dirty mind and a mouth to match, Clay Nichols is everything Julia never knew she wanted and exactly what she cannot have. He walked into her life one night and unlocked pleasure in her that she never knew was possible. Possessing her body, captivating her every thought. Which makes him way too dangerous for Julia to risk her heart, given that she has a price tag on her head. She ran after one mind-blowing week with him, but now he's back, and determined to make her his own.
No matter the cost.

She was a sexy drug to him. Fiery, unforgettable, and never enough, Julia is an enigma, and Clay isn't willing to let her go without a fight. But she's got dark secrets of her own that threaten to destroy any chance of happiness. She's a wanted woman - the stakes are high, her every move is watched, and yet the lure between them can't be denied. Can two people burned by love trust again when desire and passion are met by danger at every turn?
Lauren Blakely is just insanely good with her steamy contemporaries and this book has just fallen into my favorites pile.
She was a tall drink of a woman and her red hair was blowing in the late afternoon breeze.
Ever met a redhead who's a hell of a bartender and a killer with a deck of cards? That's Julia Bell for you. A terrible ex who had gotten her into a serious amount of trouble now has her owing a lord heaps of money and the only way to pay him back is to work for him by playing the cards on nights she's needed. And not only should she play, but a win is a must. Everyone in Julia's life would be in danger if she doesn't play her cards right. But when Clay Nichols steps into her life, she's going to have to be extra careful if she doesn't want him to get hurt.
Clay Nichols has trust issues ever since his ex had ruined their relationship with her dishonesty and he's learned the requirement of a full disclosure when entering a new relationship. But he's willing to try with Julia.
In continuation to the novella, Clay invites Julia to New York to spend the weekend. But despite her assumption that the weekend getaway would be her moment of solace from her deepest, darkest secret, it comes haunting her, branding her in the head of how she'll never truly get away.
I honestly felt for Julia, on how she wanted to protect the people important to her by not getting them involved. Definitely a strong-willed character. Meanwhile, Clay was absolutely the perfect lover -- Swoon worthy, protective and one heck of a dirty talker. He is the dream boyfriend, like for real, minus the trust issues.
He's the sexiest, dirtiest, smartest, and kindest man I have ever met.
After having read the novella that introduced me to the relationship between Clay and Julia, I knew their relationship was going to be absolutely explosive. Sexiness all over and despite the short span of time, there was an actual bond forming, and it was insanely beautiful. And not only was the book entertaining just because of how steamy every turn of a page was, but what I loved about this book was the fact that there is actually a plot going on, not just them on a bouncing bunny frenzy during their weekend of debauchery.
And guess what happened at the end? A CLIFFHANGER.
Cliffhangers are obviously going to be the death of me. It may have been a short read, but I could feel how intense it was, from the sexual tension going on, to the backstage drama in each of their lives.
Any contemporary romance lover would instantly fall in love with this book... because I know I DID.
****
Make sure to get the FREE first novella prior to reading this book: