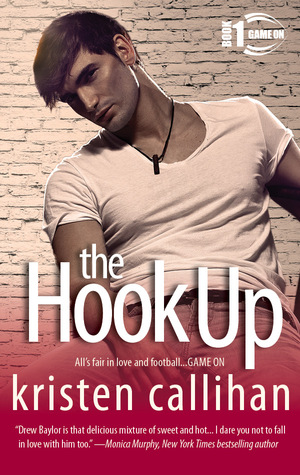 The Hook Up (Game On #1)
by Kristen Callihan (Goodreads, Twitter, Website)
Self Published on September 8th, 2014
Genres: New Adult, Romance, Contemporary, College, Sports
Format:
eBook (352 pages)
Source:
Purchased
Amazon | Barnes & Noble
The rules: no kissing on the mouth, no staying the night, no telling anyone, and above all… No falling in love.

Anna Jones just wants to finish college and figure out her life. Falling for star quarterback Drew Baylor is certainly not on her to do list. Confident and charming, he lives in the limelight and is way too gorgeous for his own good. If only she could ignore his heated stares and stop thinking about doing hot and dirty things with him. Easy right?

Too bad he's committed to making her break every rule…

Football has been good to Drew. It's given him recognition, two National Championships, and the Heisman. But what he really craves is sexy yet prickly Anna Jones. Her cutting humor and blatant disregard for his fame turns him on like nothing else. But there's one problem: she's shut him down. Completely.

That is until a chance encounter leads to the hottest sex of their lives, along with the possibility of something great. Unfortunately, Anna wants it to remain a hook up. Now it's up to Drew to tempt her with more: more sex, more satisfaction, more time with him. Until she's truly hooked. It's a good thing Drew knows all about winning.
All's fair in love and football…Game on.
Anna Jones, straight A's college senior, never expected to run into the gorgeous quarterback, Drew Baylor, who's close to being a National star, and lives under the limelight. In fact, she doesn't really want anything to do with him. Funny though when Drew actually wants everything of her; her body, her wit, her humor, her personality. One unexpected steamy hook up later, Anna just wants to keep everything casual, something to scratch an itch. But Drew's not giving up. Not until she's finally his.
The Hook Up is a college based new adult novel which features college seniors Anna Jones and Drew Baylor. It's a longer read than the books I've been reading since it's got more than 300 pages. This is the first book I've read of Kristen Callihan, and I've definitely fallen in love with her writing style. Written in first person, Kristen Callihan explores both point of views of Anna and Drew.

I've been seeing this book all over my feed on Goodreads, and most of their updates say the same thing: "THIS BOOK IS TOTALLY HOT!" So, of course, I wasn't going to miss a totally hot book so I immediately got it and I can definitely vouch that those readers weren't lying at all. This book IS hot.

Meet Anna Jones; she's smart, beautiful, feisty and most of all... A REDHEAD! I seriously fancy redheads, I've never not liked a redhead character so far (And I'm hoping I won't have to.). A college senior, she's not in the mood for anything, other than to graduate from college. No boys, no distractions. Nada. But the moment she comes across Drew Baylor who won't stop sending her heated stares, well, I don't even know how a girl can ignore that hotness.

Drew Baylor is a star. He's a quarterback, basically the King of Campus, and every girl's dream guy. But the moment he laid eyes on Anna, he knew he had to have her. What's beautiful about Drew, he may be a star but he's absolutely not a player. And he's really serious towards his feelings for Anna. A hot hook up afterwards, he knows it's not only going to happen once; there will definitely be another time. And he's out to use the hook up tactics to make her his.

I'm not a big fan of instalove, especially if it's between both characters. But instalust is something I truly fancy. The sexual tension oozing between these two was just over the top. As much as Anna wanted to deny it, it was just plain obvious. But of course, who wouldn't want to deny such an attraction when the guy who you're hooking up with, is totally way out of your league? I'd think I was just dreaming.
"This can't happen again."

I snort. "It's going to happen again. You might as well admit it."

With a huff, she pushes a hand through her hair and glares. "No. It. Won't."

"Yes. It. Will." I don't want to be an asshole, but I'm not deluded. "I want you. You want me." A wry laugh escapes me. "Though I think 'want' is too weak a word here. 'Crave', maybe. 'Am insane for', definitely."

But it wasn't just the whole sex thing in this book that took me away because upon reading further, my emotions are honestly all over. There are only a couple of books that actually took my breath away - be it in awe of beauty or in an explosion of emotions - and this book just blew my emotions like Bruno Mar's grenade.

Despite the title, this book was definitely NOT all about hooking up and steamy scenes. This book actually had INTENSE drama that almost made me want to jump out the window (Well, not literally). Friendships were made, bonds were formed and it wasn't the "I-fell-in-love-with-you-after-first-sex" kind of thing. There was a sweet and gentle build up of passion between the couple. I wouldn't consider it as a slow burn, it felt just right, but the sense of denial was always present on Anna's perspective, which was somehow frustrating but realistic. However, it's overwhelming how Drew is actually genuine towards his feelings all along.

I've always been in love with broken male characters, and Drew is basically one of the most broken heroes I've ever read. He's recently orphaned, his parents passing away due to an accident. At the beginning, he comes off as a laid back football player who's got the hots for Anna, but further into the story, I started to feel for him, especially when the author got into revealing more about his background and situation; teachers putting him in favor, mates trying to be sympathetic. Drew rejecting every bit of help from his friends was just painful to read. His character was like a slope down graph, like an instant fall drop especially when an incident occurs that causes him to break.

Meanwhile, Anna, like I said, frustrated me from the beginning (but I still liked her) because of her rejection towards Drew's advances, although it actually seemed like a sensible thing to do (Because honestly, nobody wants to get hurt). But upon reading further into the story, she actually goes through a huge character development, after always being the one to leave Drew hanging whenever they're together. I love how she turned out being the mature and responsible one in the relationship up to the very end.

In regards to the other characters, except for Gray, who was introduced as Drew's best friend, there was little or no character development at all, especially Iris, Anna's best friend. She comes off as the fun girl friend in the beginning, the type who'll surely make your life colorful, but as the story progresses, I just wanted to dump her in a sack. No, Iris. Shut up. Go home.

What I'm excited for now is the next book, "The Friend Zone" where Gray is featured. I really like Gray, he's the only sensible side character.