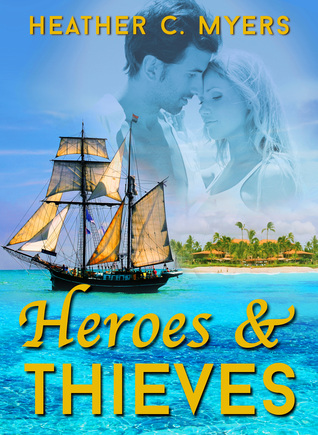 Title: Heroes & Thieves
Author: Heather C. Myers
Genre: Romance, Historical, Adventure
Date Published: September 20, 2014
Goodreads | Amazon


My Rating:



As a little girl, Arabella has always dreamed of adventure, listening to stories from her grandpa about Captain Aaron Donovan, the Robin Hood of the Seven Seas. But meeting the infamous pirate in the flesh didn't go too well - definitely dislike at first sight. But she needs him to take her away from this hell hole, and her feisty attitude got him a little hooked. Maybe having her on board isn't so bad after all.
*ARC courtesy of author in exchange for honest review*
If Pirates of the Caribbean was a romantic adventure, this would be it.
"I am still unsure why you consider yourself damaged goods when you are the closest thing to perfection I have ever come across."
I'm really loving the works of Heather C. Myers that I've read and reviewed a lot of her works, ever since she'd just been a writer on FictionPress. But this is the first time I've read her attempt at a short historical romance with an exciting twist for the readers. A Robin Hood of the Seven Seas matched with a saucy barmaid as they venture out from land to land. Her writing style doesn't change much, however, the use of old language is frequent.
Arabella, or Belle works as a barmaid in Tortuga for ten years after having run away from home. She's well known at the Bloody Mistake as the blonde barmaid with the incorrigibly saucy attitude. Meeting the infamous pirate one night at the bar for the first time turned out to be "dislike at first sight". Calling him out on his rude behavior and him mocking her choice in wanting to try a man's game. A bet is made, if Belle wins the round, he is to take her on board and away from Tortuga onto the next port, and if she loses, a discount on supplies for the pirates.
The Robin Hood of the Seven Seas, Captain Aaron Donovan steals from the rich and does everything to help the poor and those in need. A wanted man, having him behind bars would be a rich man's dream. But he's not worried, although he doesn't exactly need the extra baggage. Meeting Belle for the first time, he sure didn't like her, but he's quite intrigued. When she loses her job, he takes her on board but she'll be dropped of the next port, the place she once called home. As the story progresses, Belle becomes quite handy to Captain Donovan as a female decoy in assisting the pirates with their schemes.

The story plot is very promising, and got me reading it non-stop, which was also possible due to its less number of pages. I couldn't help but imagine Pirates of the Caribbean while reading this story, although Captain Donovan is nothing like Captain Jack Sparrow, particularly in terms of appearance. Aaron is described as a clean shaved, gorgeous man who looks nothing like a pirate. In fact, a little addition to his wardrobe, he would definitely look the likes of a rich gentleman (save for the fact that he is actually rich). I enjoyed reading Belle as well (Ooh, that rhymes). She comes off as a strong heroine, and I applaud the author for not making her the impossible woman, with things done in an impeccable manner. She's strong willed and high spirited, but she's not entirely perfect, which is what I love about her character.
I love how the relationship between the duo bloomed gently, a slow burn per se. This wasn't one of those stories with a huge amount of sexual tension. In fact, this read turned out to be very romantic especially with Captain Donovan always on the lookout for Belle's safety.
The story promised adventure, and adventure was what I got. However, my only complaints to this book was that it was too short and fast paced. More was what I expected. More of Belle and Captain Donovan's relationship, preferably. There were a couple of situations that weren't addressed properly as well, specifically Captain Donovan's past and a couple of characters mentioned in the story - which I would not go into detail because that would be a total spoiler - perhaps a sequel would be great. *coughs*
But nonetheless, this story was a worth it read and contained a lot of twists that I never expected.