*Waiting On Wednesday is a weekly meme hosted by Breaking The Spine in which we share our most highly anticipated upcoming reads (that we pretty much need to get our hands on, like drugs)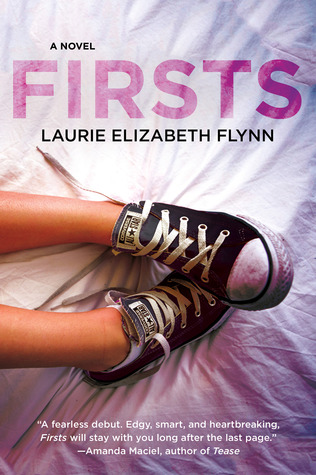 Firsts: A Novel
by
Laurie Elizabeth Flynn
(
Goodreads
,
Twitter
,
Website
)
Release Date:
January 5th, 2016 by
St. Martin's Griffin
ADD TO GOODREADS
Seventeen-year-old Mercedes Ayres has an open-door policy when it comes to her bedroom, but only if the guy fulfills a specific criteria: he has to be a virgin. Mercedes lets the boys get their awkward, fumbling first times over with, and all she asks in return is that they give their girlfriends the perfect first time- the kind Mercedes never had herself.

Keeping what goes on in her bedroom a secret has been easy- so far. Her absentee mother isn't home nearly enough to know about Mercedes' extracurricular activities, and her uber-religious best friend, Angela, won't even say the word "sex" until she gets married. But Mercedes doesn't bank on Angela's boyfriend finding out about her services and wanting a turn- or on Zach, who likes her for who she is instead of what she can do in bed.

When Mercedes' perfect system falls apart, she has to find a way to salvage her reputation and figure out where her heart really belongs in the process. Funny, smart, and true-to-life, FIRSTS is a one-of-a-kind young adult novel about growing up.
To be honest, I'm not exactly fond of reading young adult books about promiscuous teens, but let's face it, it's the 21st century where everyone is pretty much liberated when it comes to sexuality. Pretty much, the youngest parents aren't even teenagers, but tweens, 11 to 13--not to praise them or anything because it's just not right. But we know a lot of people who've lost their virginity at 15.
I'm intrigued how this book promotes sex positivity and owning your sexuality, and as much as I hate reading about slut shaming, this book would pretty much discuss such controversial topics. I'm curious though--should I expect a smut galore? Haha!