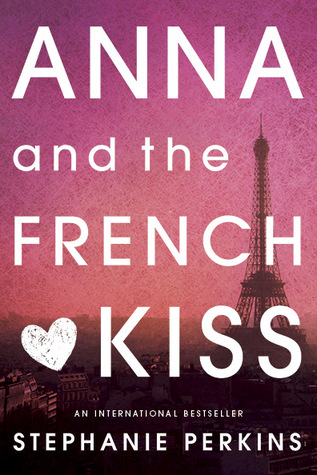 Anna and the French Kiss
(
Anna and the French Kiss #1
)
by
Stephanie Perkins
(
Goodreads
,
Twitter
)
Published by
Speak
on
July 16th, 2013
Genre(s):
Young Adult
,
Contemporary
,
Romance
Format:
Paperback (372 pages)
Source:
Purchased
Amazon
|
Barnes & Noble
ADD TO GOODREADS
Can Anna find love in the City of Light?

Anna is happy in Atlanta. She has a loyal best friend and a crush on her coworker at the movie theater, who is just starting to return her affection. So she's less than thrilled when her father decides to send her to a boarding school in Paris for her senior year.

But despite not speaking a word of French, Anna meets some cool new people, including the handsome Étienne St. Clair, who quickly becomes her best friend. Unfortunately, he's taken —and Anna might be, too. Will a year of romantic near misses end with the French kiss she's waiting for?
Young Adult is a genre I am usually wary to explore—despite the fantastic book covers— because for various reasons; particularly, character personalization. For some reason, most YA characters are either immensely immature or straight up annoying. It's
rare
unusual for me to meet fascinating characters in a YA book—let alone in a romance filled with fluff—and let me just say,
Stephanie Perkins was able to work her magic on me.
Out of the blue, Anna's parents decided her education to be continued in Paris and without her say on the matter, she ends up finding herself in the City of Love. A little bitter for leaving behind a couple of friends and a crush in her hometown, Anna finds herself realizing that Paris isn't so bad after all with a couple of new found friends at her side especially a cute American born Brit boy (woah, boy) by the name Etienne St. Clair.
"School of America in Paris," he explains. "SOAP."

Nice. My father sent me here to be cleansed.
The story plot isn't original, per se; basically about a girl crushing on a guy whom already has a girlfriend. The typical girl's life story: I like you but you like her; however, with a couple of twists and quirks, Stephanie Perkins created a swoonworthy tale of friendship and young love with a couple of cute and quirky characters.
Anna is one of the most relatable characters I've ever come across in my reading career and everything about her screams 'ME'. Her actions, her way of speech and her weird antics, I could label her as my book character persona. Not only is she as awkward as I am, but she's also a movie enthusiast and a blogger. How cool is that?
Meanwhile, Anna's unrequited crush and love interest, Etienne St. Clair has the finest name I've ever read or heard about. Etienne. I mean, seriously, try saying it out loud; the after effect leaves you somehow breathless, and nothing else can leave you swooning than a cute bilingual Brit boy up and ready to tour you around a gorgeous city.
I came to love a lot of things from this book despite my wary feelings at the start. The introduction of Paris was on point, with a couple of highlights provided with more detail than I usual. It wasn't information overload at all as the details most of us should already be familiar with, just to clarify, but still, I couldn't help but feel a sense amusement at the sight of Parisian culture through Anna's tourist eyes and I was just fascinated. Another thing was how realistic the characters were. I was glad to find these characters to be enjoyable and relatable which had me reading further.
I definitely enjoyed the slow burn of the romance; the sweet friendship that bloomed first between Anna and St. Clair was captivating and made me feel all giddy. It might sound boring to some readers, but it all depends on the author's style on how the slow burn romance should be executed and I would like to point out that Stephanie Perkins did a great job in that aspect.
To say Anna and the French Kiss was cute would be an understatement. This book is all types of adorable, I couldn't help my giggles, despite how much I tried to be as subtle as possible while reading around the family. I'll have you know I ended up looking like I had allergies as I tried to choke back a couple of laughs. It's a quick, light read; fast paced and a feel good novel and definitely the to-go book when in need of a little bit of fluff and cuteness overload.