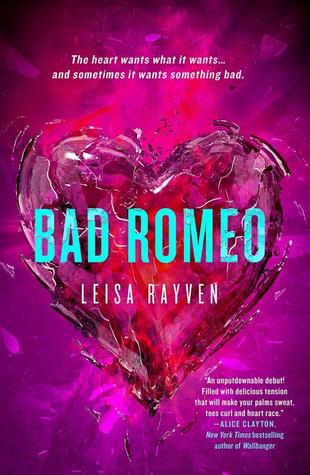 Bad Romeo
(
Starcrossed #1
)
by
Leisa Rayven
(
Goodreads
,
Website
,
Twitter
)
Published by
St. Martin's Griffin
on December 23rd, 2014
Genres:
New Adult
,
Contemporary
,
Romance
,
Humor
,
College
Format:
eBook (416 pages)
Source:
Purchased
Amazon
|
Barnes & Noble
While performing the greatest love story of all time, they discovered one of their own…

Cassie Taylor was just another acting student with big dreams at her prestigious performing arts college…then she met Ethan Holt. She was the good girl actress. He was the bad boy on campus. But one fated casting choice for Romeo and Juliet changed it all. Like the characters they were playing on stage, Cassie and Ethan's epic romance seemed destined. Until it ended in tragedy when he shattered her heart.

Now they've made it to Broadway where they're reunited as romantic leads once again—and their passionate scenes force them to confront the heartbreaking lows and pulse-pounding highs of their intense college affair. For Ethan, losing Cassie was his biggest regret—and he's determined to redeem himself. But for Cassie, even though Ethan was her first and only great love, he hurt her too much to ever be trusted again. The trouble is, working with him again reminds her that people who rub each other the wrong way often make the best sparks. And when it comes to love, sometimes it's the things that aren't good for us that are the most irresistible.

Don't miss Leisa Rayven's Bad Romeo, the intoxicating romance beloved by over two million fans online—a story that'll captivate you and hold you breathless until the final page.
This book just left me speechless and wanting to throw a tantrum on how everything flowed. Bad Romeo and I, we've got a love-hate relationship going on, but no matter how frustrated I would get, I know I would still end up loving this book with pure adoration. Sure enough, this book did hold me breathless until the final page.
Six years ago, Ethan Holt and Cassie Taylor were the bomb. They began as classmates in a theatre college, always partnered up because of their amazing chemistry and undeniable lust for one another. Both outstanding performers, and became lead characters in the school's big theatrical play, Romeo and Juliet. But of course, that amazing chemistry lead to something else, up to the point of a heartbreak. Come present day, Ethan and Cassie have made it big in the showbiz industry and are now bigtime performers. Cassie has moved on... or so she thinks, but worst case scenario is having the guy who broke your heart now appear as your new co-star in a bigtime theatrical production. Woopdie-doo. Ethan, on the other hand, is regretful and will do everything it takes to win her back.
The chapters in Bad Romeo constantly bounces from Ethan and Cassie's relationship six years ago to their present day scenarios. While their past relationship is all about the love-hate fiasco they shared, which had actually begun with a lot of bickering, fueled by extreme sexual tension -- despite how both of them had been absolutely in denial at the beginning -- their present day selves consisted of Cassie being all angsty, trying to avoid Ethan's sweet advances in fear of getting attached and heartbroken once again.
Leisa Rayven did a great job with her characters, past and present. You can definitely see the differences between the characters, then and now -- how they've matured -- especially in regards to their personality and their actions.
Cassie was a character I could definitely relate to. Her awkward antics, her ridiculous sassiness towards a certain person but she ends up shying up about her thoughts in front of a crowd, her passion for something artistic (Not that I can act, but as an aspiring artist... well, you get the point). I always had a good laugh reading about her, because I could definitely see myself reflected in her character. Years later, her personality seems to be the same, although a bit less awkward now, it seems.
While Cassie is the hilariously awkward girl, Ethan was the brooding artist with a broken past. He was the typical "I don't need a girlfriend" type of boy, for some reason, which was pretty much cliche, but it definitely worked for his character. For the record, I adored both old Ethan and present day Ethan. The old Ethan was pretty much angsty and appeared both annoying and cute, he was also young and troubled. Pretty much understandable. On the other hand, present day Ethan just made me swoon. His charactered had developed and matured so well that I could not help but adore him more.
Not only did Rayven did great with her main characters, she was spot on with her minor characters as well. They were absolutely well rounded into the story, especially Jack. Oh lord, he was the fun of the crowd, and I can't help but agree that he stole most of the whole book... well, at least, for me, he did, except for the moments where he acted as a total cockblock between the couple.
What frustrated me about the book was the constant push and pull between Cassie and Ethan. One minute they're into each other, the next minute, either Cassie or Ethan can't handle the both of them together, to the point that it became somewhat repetitive mid section. There was too much tension going on between them but their constant denial was just too annoying.
Bad Romeo aggravated me, but it got me loving it in the end. I loved the balance of hilarity and drama in this book. Everything was just right; nothing much, nothing less. If you fancy a read that will make you giggle and well... make you want to slam your book or ereader down, then pick it back up to continue reading -- immediately -- this book is definitely right up your alley.
I also can't wait for the upcoming sequel, Broken Juliet! Please. Come. Now!