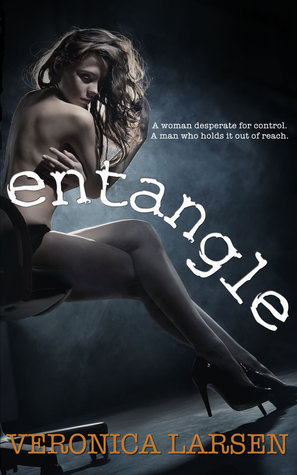 Entangle
by
Veronica Larsen
Genre:
Contemporary Adult Romance
Expected Publication:
December 1, 2014
Format Acquired:
ARC from Author via
Enchanted Book Promotions
My Rating:
It begins small.
His smoky blue eyes strike hers until the air between them flickers.
Her whispered suggestion blows the spark into a flame.
A guarded heart. A relentless pursuit.
An insatiable chemistry that yields to a torrid affair.

Alexis Stone
I tried to do things the right way.
I wore the big white dress and rode off with Prince Charming.
Then Charming changed his mind.
See, that's the part they don't tell you; he can change his mind.
These days, I don't put my heart in anyone's hands because I don't even know where I've left it.
Enter Leo. Blue-eyed specimen of a man, stirring me awake in ways I never thought possible. I think I should indulge myself for once. Because one time is all I need.
Then he goes and weaves simple, deliberate movements into pure, gilded pleasure. And I'm hooked.
I'm so blinded by desire I barely notice the gaping hole opening underneath me, the one that's sure to swallow me entirely.
Because every time I've dared to get close to someone, they've cracked me wide open. Why should this time be any different?
WARNING: SPOILER ALERT
There are good books that I read, but put down eventually for quite some time to return to life. And there are good books that I devour straight up, with very little or no breaks... and this is one of those books. The moment I picked this up, I couldn't put it down. Nope.
Veronica Larsen places two emotionally unavailable characters together and mashes them so perfectly, they just bounced from flawed to insanely perfect. The novel is written in first person, bouncing back and forth between the thoughts of Alexis Stone and Leo Conrad.
Alexis is the boss-woman of her own booming company. She's a smart, strong, independent woman, who doesn't need a ring on her finger, or she thought she did once... until her ex-husband decided to do a U-turn out of her life, just because she couldn't be the type of woman he wanted: the trophy housewife and homemaker. Two years later, you'd think she's already moved on properly from the heartbreak, but then, who does move on easily? Having been ditched by a husband who recited 'till death do us part' vows to her once, it's not an easy step to move on from that, especially when her ex-mother-in-law sends her an invitation to his wedding. Wow-ee.
I wore the big white dress and rode off with Prince Chrming. But then Charming changed his mind.
She's not in love with him anymore, but for sure, she does hate him so much for having been able to move on, while she now appears as a stuck up, prissy boss who intimidates her blind dates and employees, except for one hunk, Leo, her new Engineering Director, who sends her heated glances that make her feel nervous and giddy every now and then... and Leo seems like the perfect itch scratcher.
As much as Leo is a total hunk, he is basically the typical hot bachelor who loves living the single life. A, he's cool with flings, and B, he's not into commitment. Though he comes off quite aloof, perhaps due to the reason that he's fairly new in the company, but that doesn't stop him from fantasizing about his stunning employer. Despite his attraction towards her, he doesn't want to take the step forward, because he knows what's going to happen:
She will develop unrequited feelings, eventually become bitter toward me, and make my life hell. That's the natural cycle of these things. I've see it too many times to question its existence.
F*ck. Bitterness. Hell.
But you know, no matter how many times you try to deny and reject an attraction, the tension is always over the top.
We don't acknowledge it with words but our gazes dance in the air between us, passing secret notes back and forth and no one else in the room seems to notice.
I have so much mixed feelings for this book, but majority flows to the positive. When was the last time I've actually read a book where the woman is a dominating creature, where she holds the reigns in and out of the relationship, intentionally or unconsciously? I don't remember. But this book nails it. Alexis Stone is the dream woman -- minus the terrible emotional package -- but nonetheless, she is someone I would bow down to. And not only do we have a dominating woman in the form of Alexis Stone, we've also got the perfect male counterpart to her highness, which doesn't seem quite obvious in some points in the book, but in the very end, he's the king, absolutely ready to bow down to his queen. Now, that's what I call equality.
But just like any other person, they're very broken. They both come with a package that they've tried so hard to get rid of. For Alexis, it's her past, particularly, her mother, the woman who ditched her kids for drugs and alcohol after her husband ditched the family. There's lots and lots of ditching going on in this book. Her messy childhood led to hardwork that got her sister and herself college degrees... and then came her divorce that led to creating a very daunting woman unaware of her stature on her high pedestal... with unbreakable walls. Meanwhile, Leo, hailing from family money, and disliking every bit of it. The commitment, the lack of freedom and imposed control. Leo is the man who just wants out of a 'two' and would most prefer to be a 'one'. While Alexis feels she's had her chance for her Happy Ever After, Leo has never encountered a single aspect in life that would be worthy of calling a Happy Ever After.
We become fools that think love, in and of itself, is enough to fix broken things, broken people.
I had known this quote was overly familiar, and I felt at ease when I read the author's acknowledgments where she mentioned being inspired by my two favorite poets ever, Christopher Poindexter and R.M. Drake; and the quote above hails from this beautiful masterpiece.
"And in the end, we were all just humans... Drunk on the idea that love, only love, could heal our brokenness." -- Christopher Poindexter
And no, it's not an F. Scott Fitzgerald quote, despite what everyone else is saying.
And moooving on.
With the aforementioned poetic verses, this is where I am pleased about the author's writing style. A prose in itself, she uses beautifully placed quotes and verses that almost results as a punch in the gut of how on point they are (And kudos to the poets who've inspired those quotes). Although some of the readers may dislike that type of writing and would call it overly dramatic; as a person who writes poetry, I simply loved how the author played on words, although at some point, I would agree that it did fall into a very dramatic motion, but it wasn't to the point that it was overly and unecessary.
As I suddenly feel that my review sounds so jumbled up, bouncing from topic to topic, I'd also like to acknowledge the other characers in this book whom I enjoyed reading about: Alexis' sister, Emily, is my spirit animal. She's a fresh graduate lawyer... with a loud potty mouth. Reading about her was so much fun, even as a minor character, she brought the sun to this dramatic romance.
My adoration for this book kind of went a little downhill when I reached the ending, because it lacked closure. When reading novels, the Epilogue is my most favorite part of the whole thing... and this book did not have any. As cliche as it may sound, I love the idea of time skips after the "I love you's" where they show how they turned out to be and also, what happens to the others... not unless there would be a next book, which I'm quite unsure of. But nonetheless, I still loved how everything flowed. I just felt as if I was cut short at the end.
All I needed, more that anything, was for someone to convince me that love is worth the risk. We are built for love. We are hard-wired for the experience. And if we don't risk losing ourselves in it, we risk never finding ourselves at all.
But nonetheless, this story was fantastic! A highly recommended read!
Until next time!