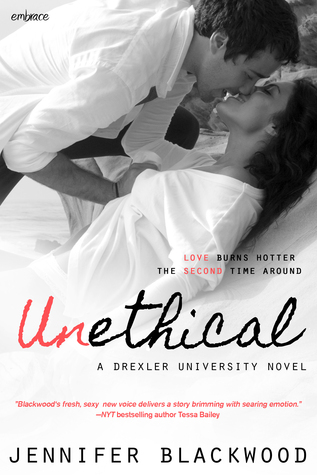 Unethical
by
Jennifer Blackwood
Genre(s):
Romance, Contemporary, New Adult
Publisher:
Entangled Publishing (Embrace Imprint)
Date Published:
October 20, 2014
Format Acquired:
ARC from Publisher (eBook)
Purchase: Amazon
|
Barnes & Noble | Kobo Books
My Rating:
Love burns hotter the second time around…

Two years ago, the medical world was shaken by scandal, and Payton Daniels's family was at the center of it. The second she graduated, Payton left everything behind―her high school sweetheart, her family, and the controversy surrounding her mother's death—and hid within the anonymity of college. But Payton's ex, Blake Hiller, hasn't forgiven her for leaving, and when he enrolls in the same medical ethics class, she panics. She can't run the risk of him telling everyone who she really is.

As if being at the same university isn't enough, both Blake and Payton land the same internship. Forced together, their passion for each other reignites, but when Payton is asked to testify in her father's high-profile trial, she must choose between risking her acceptance into medical school to help her father, and losing every connection to her past—including the only guy she's ever loved.
Payton Daniels has a secret; her mom's dead and her dad's in jail for violating the Medical Code of Ethics for commiting assisted suicide. Unable to handle the whole controversy, she runs away, leaving everything behind. Now a pre-med college student living in anonymity, everything comes flashing back to her, especially with her dad being the center of lecture debates, and her ex-boyfriend and high school sweetheart, Blake Hiller turns out to be in the same ethics class. Now if she wants to get into medical school, she can't risk Blake spilling her real identity to everyone, but Blake's not over her and never was. What's a girl got to do?
Unethical features a second chance love story between two college students, one with a terrible past experience, and the other willing to make amends for past mistakes. Now, this is one of the few second chance romance reads I've ever come across and I'm starting to take a fancy to the theme.
Payton Daniels is trying to live a new life, and is prepping herself for medical school, and everything seems to be starting out alright, now that she's left everything behind. Her father is the center of a medical controversy for commiting assisted suicide on his wife, Payton's mother, and she's tried to hide in anonimity. But she can't seem to shake off the fact that despite him being in jail, his name always seems to pop out everywhere, on television, the papers and even the scapegoat of lecture debates in ethics class.
Blake Hiller is not over Payton for leaving him. He's not forgiven her for leaving without a single word, and he's pissed at himself for not being there when she needed him the most. Now that they've crossed paths once more, Blake is convinced he needs to have her back because she's the only girl he's ever loved.
I feel like this book took too much of my time, because I had high hopes and thought of the plot as promising with family choices and career dreams being in line. I enjoyed the beginning, with the concept of personal and family angst but despite all that, Payton is trying to strive to get into medical school. But as it turned out, the whole plot of Payton's father being in jail for a medical controversy, alongside with the trial and the internship only turned out to be a huge backdrop for the annoying push and pull between these two. One minute they're fighting over the past and her father's issue and next thing you know, they can't get enough of each other.
I seriously believe this story needs a big touch up, because I really liked the plot line, but I just did not like the way it was written. Now, I've always enjoyed books written in different POVs because of the play on both of the main characters' thoughts, but instead there were a lot of monologues that were unecessary and didn't even go well with the plot.
Another thing I've also noticed is matters tend to escalate a lot quicker than normal in situations in this story, especially with Payton's roommate/best friend, Jules, and Blake's frat brother, Andrew. Perhaps the only character I actually enjoyed was Jules but that favoritism hit the curb in the near end.
This book was okay, but not something I'd even want to go back to. But I do believe in second chances, so if this book were to be re-written, I'd definitely give it a shot and read it again.