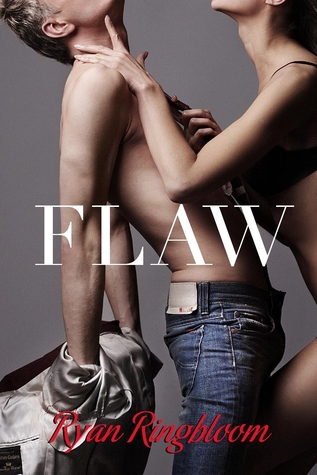 Flaw (
Flaw #1
)
by
Ryan Ringbloom
Genre(s):
New Adult, Romance, Contemporary
Publisher:
CreateSpace Independent Publishing
Date Published:
January 20, 2014
Format:
Kindle Edition from
Book Enthusiast Promotions
Amazon
|
Barnes & Noble
|
Kobo Books
My Rating:
What can be said about Josh Brewster? Nothing good, that's for sure. Just ask anyone. They'll be quick to tell you. Josh is a selfish, sweet-talking manipulator who will charm you in a minute, all the while planning his next move. He uses. He leaves. All Josh desires is things that come easy. Why actually work hard for something when you don't have to?

When Josh comes to face to face with a girl who's doesn't make anything easy, Josh begins questioning the game he's played so long. He's suddenly eager to learn how to work for something he never imagined wanting. Can a player really change his ways? Better yet, will his past forgive?

Aidan Turner has had a rough life, a life that has only become harsher as he's gotten older. The scars across his face serve as a constant reminder of the haunting nightmares from his past life. Seeing himself as nothing but a monster, Aidan believes no one will ever be able to look past his flaws.

His reasoning is about to change when his very own beauty comes barreling in, sparking emotions he'd thought he'd never feel. Love sizzles between them, but his friendship with another girl complicates everything, especially after the nature of their friendship becomes confused. Will friendship overshadow his true feelings and ruin both couples' chances at happiness?
I don't even know where to begin of how I enjoyed this book so much. Flaw is the type of read that makes you feel all uneasy and uncomfortable at the beginning, and then when you reach the middle, you suddenly feel so bad about yourself for thinking horrible about this book; because that's what I did and felt the whole time. I've now learned not to judge a book so soon. Yup.
Ryan Ringbloom does a wonderful job in portraying four characters, all broken and flawed in their own way in this beautiful mess of a book. A spoiled rich boy, a heartbroken possessive girl, a scarred and alone tattoo artist and a little miss perfect princess. The book is divided into two sections, Part I and Part II, whereas, the first is all about the POVs of the boys, Josh and Aidan and the latter for the girls, Becca and Jordyn.
The story kicks off with Josh Brewster finally deciding to move out of his parents' abode, just for the sole reason that he can't take girls home for hook ups. He comes off as a spoiled kid and a total mama's boy. As an only child, everything he's ever wanted and needed is provided immediately. He's never had to work for anything, so the moment he decides to move out appears as a startling proposition to his parents. It's a "big move" for him, at twenty one and finally opting to leave the nest. And not only is he a pampered brat, who makes his mom not only do his laundry but also leaves her to carry it in the house from his car trunk, but he's also an jerk towards the opposite sex. Ride 'em and leave 'em, that's the rule.
Josh moves in an apartment, with the original sole dweller, Aidan Turner, a total hunk with a nasty scar on his eye which he often hides by wearing sunglasses. To match his facial flaw, Aidan's got an aloof personality and is often repressed and protective, a complete polar opposite to Josh's boisterous and ungentlemanly attitude. He's been through a tough past, and the only friend he's ever made who never rejected him despite his appearance was Becca, his next door neighbor, who always hangs out at his space. With Josh in the picture, and Becca's sudden attraction to the new roommate, Aidan is definitely not enjoying the view.
Now here is where the complications start.
Becca is the pure embodiment of self insecurities. She's heart broken from an ex-boyfriend, and believes that she and Aidan are meant to be, because of their broken statures; that they're meant to protect each other. Ever so often, she comes off with a carefree and saucy attitude, which she's been showing Josh to imply how she sincerely dislikes his treatment towards girls, but it all comes down to her attraction towards him, which she feels is absolutely wrong.
"It was the persuasive sweet talk and actions Josh took to reel a girl in that threw me off. The way he could lead a girl to believe his feelings were genuine, building them up only to crush and humiliate them in the end."
With the progression of the story, it starts to appear as a love triangle between Josh, Aidan and Becca; Josh being attracted to Becca and vice versa, despite how she has implied her distaste towards his playboy persona. She becomes indenial and tries to prove she has feelings for Aidan instead. See how jumbled up these things are getting just because of Becca's indecisiveness? (Maybe we should change her name to Bella instead. Hah!) But wait, there's more.
Adrian reluctantly returns the supposed "mutual" feeling to Becca, despite his sudden attraction to Josh's boss, the little miss perfect Jordyn, who he first laid eyes on at the tattoo parlor when she wanted him to do her tattoo. And next thing he knows, he's dressing up as a prince to help her with charity work.
Quite a parallel to Josh's rich stature is Jordyn. She's rich, but she's a hardworking individual, which is why she's labelled as Miss Perfect. The girl who can do no wrong, and everyone counts on her. And meeting Aidan was a total twist to her perfect life. Someone so physically and emotionally flawed, contradictory to her perfection. She wants a taste of that, even if just a little bit.
"I met someone and lately I find myself wanting a flaw in my life. I find myself craving a flaw, drawn to a flaw. I want that flaw."
Perhaps we should replace the word 'flaw' with 'Cheetos'. Yep, that would sound better.
It gets really confusing, even I'm starting to get confused as I'm writing this review. So to keep track, the whole situation is this: Josh likes Becca; Becca likes Josh, but is indenial so she hops to Aidan who she knows she should be with; but Aidan is attracted to Jordyn. It doesn't exactly appear as a love square because the relationship between Josh and Jordyn is purely platonic. The whole love affair is quite linear, to be exact.
As much as I should hate Josh for his personality, he just seems like any other guy, so I seem to have been desensitized by his nature. But as the story progresses, I believe he is the one with the most character development among the quad. Suffice to say, he deserves a slow clap in the end.
"The asshole lifestyle I lived -- I'm paying the price. The wedding, this thing with Becca... it's all karma."
I totally wanted to give Josh and the author a major hug for that line.
But Aidan was my most rooted character from the very beginning. I honestly felt for him. He was a character I adored, and also because I have a bias for emotionally broken heroes. He was just basically boyfriend material. No, wait. Scratch that. Husband material. Yup.
"I've been through a lot, Jordyn, so when you tell me you like me and ak me if I like you back, I need to you know what you're getting yourself into."
In regard to the girls, I didn't like Becca's character because of her indecisiveness towards Josh and Aidan, and her jealousy and angst towards Jordyn, despite their supposed 'friendship'. She was fun to begin with, reminded me so much of myself, until she starts displaying the need for attention from the two boys. It was exhausting to read about her instant possessiveness and at the same time, she starts going all judgmental about Josh's personality. Just, no.
On the other hand, Jordyn is love at first sight. I mean, who wouldn't fall in love with her character? She's close to perfect. Until she starts to realize the ugly truth: No one falls for personality first. But she did just that, with Aidan. And like any other love story, somebody messes up in the end.
I started to like the Josh and Becca pairing in the second half, when their chemistry started to build up from the annoying push and pull between them. Meanwhile, in regards to the the Aidan and Jordyn pairing, it was the lust between them that had me rooting for them at the beginning, because they instantly were like a Beauty and the Beast couple in real life. Although, I felt like I was deprived from the progress on their part before the blurt of "I love you's". Everything happened so fast, it was as if I missed a whole chunk of their pre-relationship. Also, with what I have learned about Aidan, he is supposed to be a tough nut to crack and not the type to just expose his feelings and his past in just a snap. That part kind of threw me off.
But regardless the commentaries I've made above, I somehow felt a sense of closure because of the fact that all these characters found a way to love or change their flaw and develop it into something beautiful. Tons of lessons here, but mainly; flaws are what make you beautiful and perfect. I would like to give my kudos to the author for a truly realistic protrayal of these flawlessly flawed personas. Cheers!
And for those who've read about Tessa and Tucker in
Wait
, the second book of this author's
Fast
series, there's a little surprise to come in the end of this book. I chose not to read that extra treat in the end about these two because I haven't read their official story yet.