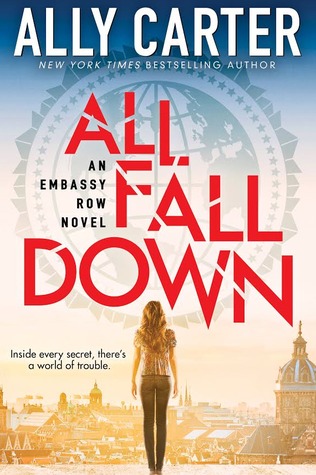 All Fall Down
(
Embassy Row #1
)
by
Ally Carter
(
Goodreads
,
Website
,
Twitter
)
Published by
Scholastic Press
on January 20th, 2015
Genres:
Young Adult
,
Contemporary
,
Espionage
Format:
eBook (325 pages)
Source:
Publisher via Netgalley
Amazon
|
Barnes & Noble
A new series of global proportions -- from master of intrigue, NEW YORK TIMES bestselling author Ally Carter.

Grace Blakely is absolutely certain of three things:

1. She is not crazy.
2. Her mother was murdered.
3. Someday she is going to find the killer and make him pay.

As certain as Grace is about these facts, nobody else believes her -- so there's no one she can completely trust. Not her grandfather, a powerful ambassador. Not her new friends, who all live on Embassy Row. Not Alexei, the Russian boy next door, who is keeping his eye on Grace for reasons she neither likes nor understands.

Everybody wants Grace to put on a pretty dress and a pretty smile, blocking out all her unpretty thoughts. But they can't control Grace -- no more than Grace can control what she knows or what she needs to do. Her past has come back to hunt her . . . and if she doesn't stop it, Grace isn't the only one who will get hurt. Because on Embassy Row, the countries of the world stand like dominoes, and one wrong move can make them all fall down.
I never realized reading romance books can be kind of exhausting. THERE. I said it! The avid smut reader has become bored from all the smut she's been reading! I'm kidding. I'm not bored, but a change of scenery from all the smexy would be great, so a cool Young Adult fiction novel would probably do the trick. Hence why I picked up All Fall Down.
Well, upon reading, I've concluded two things: One, I do not relate well to female main characters in Young Adult novels, and; Two, it seems almost every YA main character is either an angsty teen or a total daredevil.... or perhaps both; and that is pretty much the description of Grace, our main character in this novel.
The story kicks off with sixteen year old Grace moving into the US Embassy in Embassy Row, where her grandfather lives. Embassy Row is basically a United Nations Embassy located in a foreign country, and is obviously no place for Grace's daredevil antics, especially with her grandfather being the US Ambassador. However, as mentioned above, our main character is a very angsty teen and absolutely antisocial. She believes her mother was murdered, as she claims to have seen the murderer with her very own eyes, on the day of the tragedy, but no one believes a single thing she says. The fact that she was also placed in rehab after the tragedy isn't much help either. Hence, Grace assumes everyone thinks she's crazy.
Grace is determined to find her mother's killer, and the whole fiasco is triggered when she sees the "scarred killer" living in the premises of Embassy Row as the head of security of the Prime Minister of Russia. With the help of her new found friends, she tries to hunt down the killer and make him pay.
But honestly, who wouldn't think of this girl as crazy? Grace seems as if she's from a Spy Kids movie, with a matching death wish, doing all sorts of audacious stunts that could get her and the rest of the kids in trouble. I found her character to be so aggravating and too immature for her age. Sure, she had a tragic past, but she pretty much labelled herself as a "special snowflake" althroughout the book. However, she did grow along the way, but not to my satisfaction.
Well, I'm not going to deny; this was an interesting read and I did fancy the concept of a bunch of global representatives living in a single community, but with separate private territories. There were cool stuff included, like balls and body guards and royal meetings, and what not, plus Grace and her crew's attempt in being smart, spy kids, which kind of reminded me of Agent Cody Banks 2, minus the cool gadgets.
However, Carter pretty much led the readers into a wild goose chase, and I'm not sure if it's in the author's style of saving the huge plot twist the very last minute, because that's how everything went in this book. The unexpected plot twist appeared at almost 96% of the book. Although it was still shocking, however, I still felt as if a lot of questions remained unanswered. But then again, All Fall Down is a beginning of a new series, so we'll see where Carter is bound to go with this novel.
I had so much high hopes for this book, but hey, it's not a bad read for my first try on an Ally Carter novel. If you're into YA espinoages, this book may be just right for you.